- What are some common routes to take when troubleshooting?
-Why is my computer running slow?
When you're dealing with a random issue, there are a handful of things you can try when troubleshooting. Below is a list, from the quickest possible fixes to the more involved options.
Try a Different Browser
This sounds silly, but you'd be surprised how many temporary issues are solved when you switch from one browser to another. Even if you are a devoted Firefox user, it's good to also have Google Chrome and Microsoft Edge installed on your device, just in case.
There are several reasons for this, such as your preferred browser not being up to date, having something in its cache that is interacting with the current site, or an issue with the browser or server itself. Read on for how to deal with the first two of those possibilities, but if you need a fix quick, trying your alternate browsers frequently solves the issue.
Delete Your Cookies
Sometimes, the data you collect in your browsing cache can interact with the functioning of your browser. Below are links to the directions for each popular browser, so you can access the most up-to-date information for each.
In all cases though, if you are able to select what data is deleted, it's recommended not to select login information if you rely on that. The saved login information shouldn't be the issue.
Google Chrome
If you're using Google Chrome, you can go directly here to clear your browsing data. Here is a description on how to get to that page, whether you're on a typical computer, in the Chrome app on an Android, or on an iPhone/iPad.
Mozilla Firefox
Here are the directions on how to clear your cookies in Firefox.
Microsoft Edge
Here are the directions on how to clear your cookies in Microsoft Edge.
Apple Safari
Here are the directions for every version of MacOS.
Update your browser
Google Chrome
Here are the directions for how to update the Chrome application.
Mozilla Firefox
Here are the directions for how to update the Firefox application.
Microsoft Edge
Here are the directions for how to update the Edge application.
Apple Safari
Safari updates automatically whenever you update your MacOS. See the "Check for Updates" section in that case.
Close Everything
Sometimes, you just need to turn everything off. This is a lighter version of shutting off your whole device. Instead, just fully shut off any program or application that's giving you trouble.
While clicking the X at the top of the screen can close it, it doesn't guarantee that it isn't still running in the background. If you see the app is still open in your taskbar, right-click it and select the "Quit" option to fully turn it off.
Don't Overload Your Device
Your device can only handle so many applications and programs at a time, especially if it has less RAM. Think of it like multitasking; You're able to do a few things at once. But if you keep adding things on, you get a lot slower, and can even mess up. So if your computer starts moving extra slow, try closing out unnecessary programs and tabs so it can focus on the things you need it to.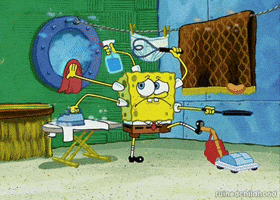 Check Your Internet Connection
This can present similarly to the above point, but specifically with processes involving the internet. If your browser runs slow or gives you errors that say it "timed out," check on your internet speeds. If you don't have a favorite one, you can always Google "Internet Speed Test" and select one of the several that turn up.
Fixes for a rough internet connection are dependent on your situation. If you can, lessen the number of physical barriers between you and your router, and get closer to it. If you're able to switch to an Ethernet cable over a wi-fi connection, that tends to help internet speed and reliability. Having many other devices on the same internet connection can slow it down as well. Ultimately, it may come down to a case of needing to order higher speeds from your internet provider. But those are some options to try before going to that length.
Check for Updates
In Windows 10
Select the Start
button, and then go to Settings
> Update & Security
> Windows Update
. See here for more.
In Windows 11
Select Start
> Settings
> Windows Update
. See here for more.
In MacOS
Click Apple menu
> System Preferences, then click Software Update
. See here for more, including specifications for particular MacOS versions. If you have an older OS, this resource has more directions on how to maintain it as best you can, or even upgrade it to newer OS's.
In ChromeOS
In the bottom right, click the time, and then Settings
. Click "About ChromeOS". Under "Google ChromeOS," click Check for updates. If an update is available, it will automatically start downloading. See here for more. Google also made a great interactive tutorial on how to do this.
Hard Reset
Have you tried turning it off and on again? No, really. If you have the time, this can be a great way to clear up an issue. It tends to hit some of the options already discussed above. The only problem is that it takes a little longer, especially if your device hasn't been updated or shut off in some time. For that reason, it's a great idea to do this periodically, even when no issues are currently showing themselves.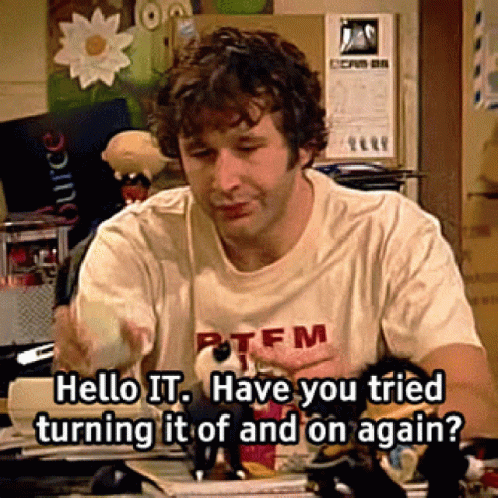 If you try this method, it's important to actually turn it off, give it half a minute, and then power it on again. Don't just hit reset. Some updates and changes don't fully take effect until that happens. Because of this, it's a good idea to shut it off using your device's main menu, and not a physical power button; Sometimes, those just put it to sleep. Additionally, there might be another setting in your computer that's preventing it from fully turning off regardless of what you do. For more information on how to turn that setting off, check out Hard Reset - What Is It and How To Do It?
If All Else Fails
If none of these suggestions does the trick, and you're still dealing with an odd tech issue, feel free to submit a Solutions Helpdesk Ticket to the Solutions Team. Give them as much information as possible about your problem, including screenshots if you think they'll help describe what you're seeing. The more they know about the issue, the quicker they'll be able to troubleshoot it.