Periodically there are times when a platform we use puts out an update that doesn't operate smoothly with our devices.
For example, one recent Zoom update (Oct 2022) caused some users to no longer be able to access their Zoom backgrounds which worked fine prior to the update. In cases like these, we recommend trying a few different steps:
1) Make sure both the new update and the device are fully updated to the most recent status (in some cases updates can come out on back-to-back days).
3) Delete and re-install the platform or product that isn't performing properly (like Zoom in the example above)
4)Turn your device off, wait 30 seconds, then turn it back on
5) Hard Reset- which is slightly different than turning your device off and on again.
Have you tried turning it off and on again? Perhaps you've heard someone you know in the computing world make such a joke. The thing is, it can actually work. If you have the time, this can be a great way to clear up an issue. It tends to hit some of the options already discussed above. The only problem is that it takes a little longer, especially if your device hasn't been updated or shut off in some time. For that reason, it's a great idea to do this periodically, even when no issues are currently showing themselves.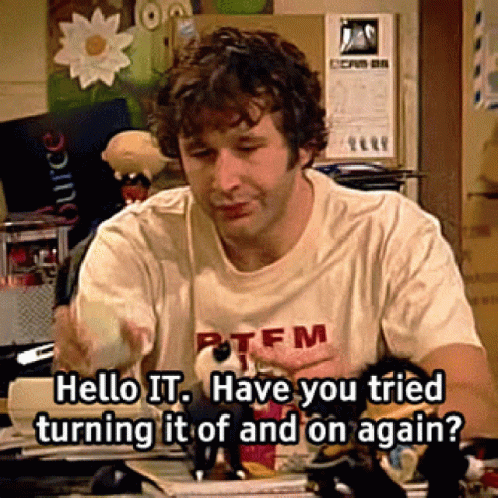 If you try this method, it's important to actually turn it off, give it half a minute (at least 30 full seconds), and then power it on again. Don't just hit reset. Some updates and changes don't fully take effect until that happens. Because of this, it's a good idea to shut it off using your device's main menu, and not a physical power button; Sometimes, those just put it to sleep.
When all else has failed to remedy the problem, perhaps a Hard Reset is needed.
Why do I need a Hard Reset?
Windows devices operating Windows 10 (or newer) operating systems will have a "helpful" feature called Fast Startup. The intent is to allow your device to restart (or reboot) quickly so that you can jump right into your activities in a matter of seconds from the time you turn it on or open the lid (in the case of a laptop).
However, this feature prevents the computer from performing a regular shutdown and can cause some compatibility issues with devices that do not support sleep mode or hibernation.
To counter this and allow a true, hard reset, you will need to disable the Fast Startup feature.
Disabling Fast Startup
To disable Fast Startup, press the Windows Key + R to bring up the Run dialog, type powercfg.cpl and hit ENTER. The Power Options window should appear. Click "Choose what the power buttons do" from the column on the left.
Scroll down to "Shutdown settings" and uncheck the box for "Turn on fast startup".
Note: If these options are greyed out then you may need to click "Change settings that are currently unavailable".
Click the "Save changes" button to apply the changes.
How to Perform a Hard Reset
Your device is now ready for a Hard Reset anytime you:
1) click the Windows Key on the bottom of your computer desktop and
2) select SHUT DOWN.
Wait the aforementioned 30 seconds worth of time. Then power up your device just like you normally would. All changes made from updates and settings should now take full effect.
*It is a highly recommended practice to give your device a true shutdown (Hard Reset) about once a week or once every two weeks. This should help keep your device in optimal running condition and will prevent a great many potential problems.